Responsible Supply Chain Summit Europe
Last week the Landscape Finance Lab was at the London Responsible Supply Chain Summit Europe 2018
In a time when global supply chains are being scrutinised like never before, it is great to meet and discuss emerging technologies, innovations and collaborations critical to sustainable, cost-effective supply chain strategies.
Our Markets Lead Raphaele Deau spoke on the Low-Carbon Keynote, presenting how the SCALE landscape program in Cambodia aims for a transformation of the textile industry through an ambitious rural energy transition.
To meet the 2-Degree target requires ambitious investments and innovations in technologies, strategies and clean energy. Together with Giovanni Tula Head of Innovation & Sustainability Enel Green Power, Morten Blomqvist Senior, Sustainability Advisor Ørsted, Sam Kimmins Head of RE100 The Climate Group and moderated by Kirsten Dunlop the CEO of Climate-KIC, the group discussed where changes need to be made to accelerate the migration to renewables. They had a fruitful discussion.
While in London Raphaele also met with WWF UK corporate teams and the Trillion Trees team, furthering the Lab's collaborative work with these organizations.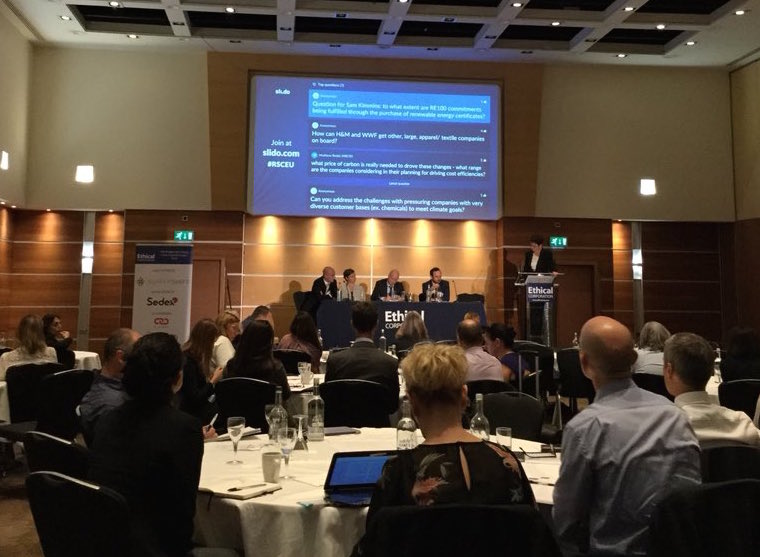 This post was edited on Oct 15, 2018 by Natalia Krasnodebska