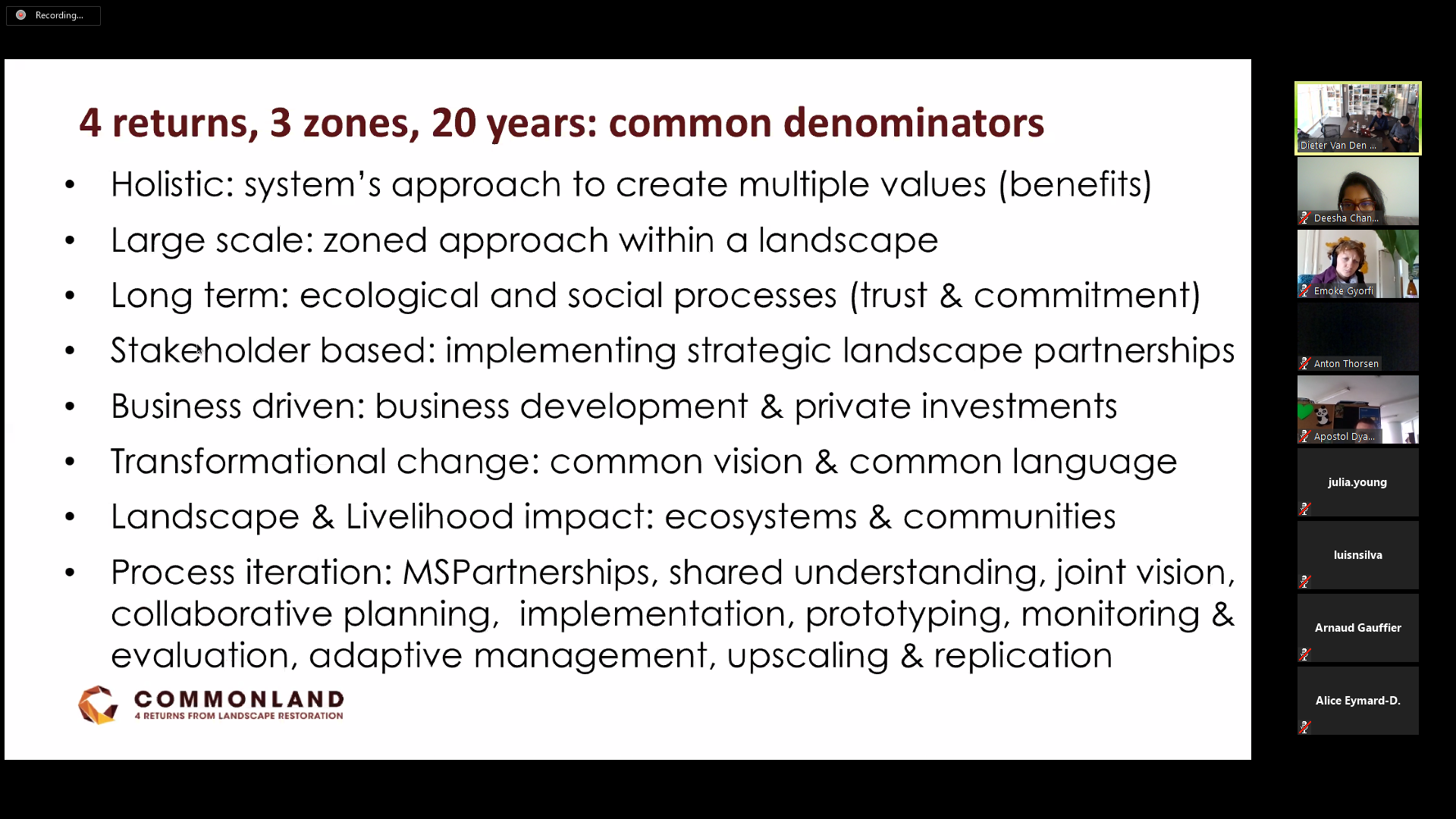 The Lab hosted a knowledge sharing session with Commonland. Based in the Netherlands they are an organisation which develops landscape restoration projects that are based on business cases.
Their goal is to realize large-scale landscape restoration with local farmers, land-users and experts, based on sustainable 4 returns business cases.
Click here for the recording to learn about their "4 returns" methodology and how its being applied in the landscapes they are working with.
Some of the key takeaways include: 
Commonland work on the basis of 4 returns which is the focus for the impact they want to have from their landscape work: 
Return of Inspiration

-  bringing back the hope, energy and trust within a community to be inspired by the landscape. Moving away from the traditional doom and gloom story to a more positive outlook. 

Return of Social Capital

- bringing back the local economy and supporting people in a social context as well as the conservation work

Return of Natural Capital

- as conservationists we think we need money to invest in nature research however there are big wins to be had around agricultural landscapes. Through this you start creating a natural buffer for your area and relieves the pressure on the landscape. 

Return of Financial Capital

- focuses on creating business opportunities. Transitioning towards more regenerative practices in the first 5-7 years, its a challenge because farmers will see productivity reduce in the first instance but it creates a space for businesses and governments to invest. 
Dieter and Simon take us through specific examples of landscapes they are working with in South Africa, Spain and Australia. 
They have also condensed some of this learning through a 7 module course developed with partners. This MOOC aims to train the next generation of business professionals and developers to acknowledge business' interdependency with healthy landscapes and understand the value of ecosystem resources.
This post was edited on Jun 28, 2018 by Deesha Chandra