Fireside chat: Investing in Forest and Landscape Restoration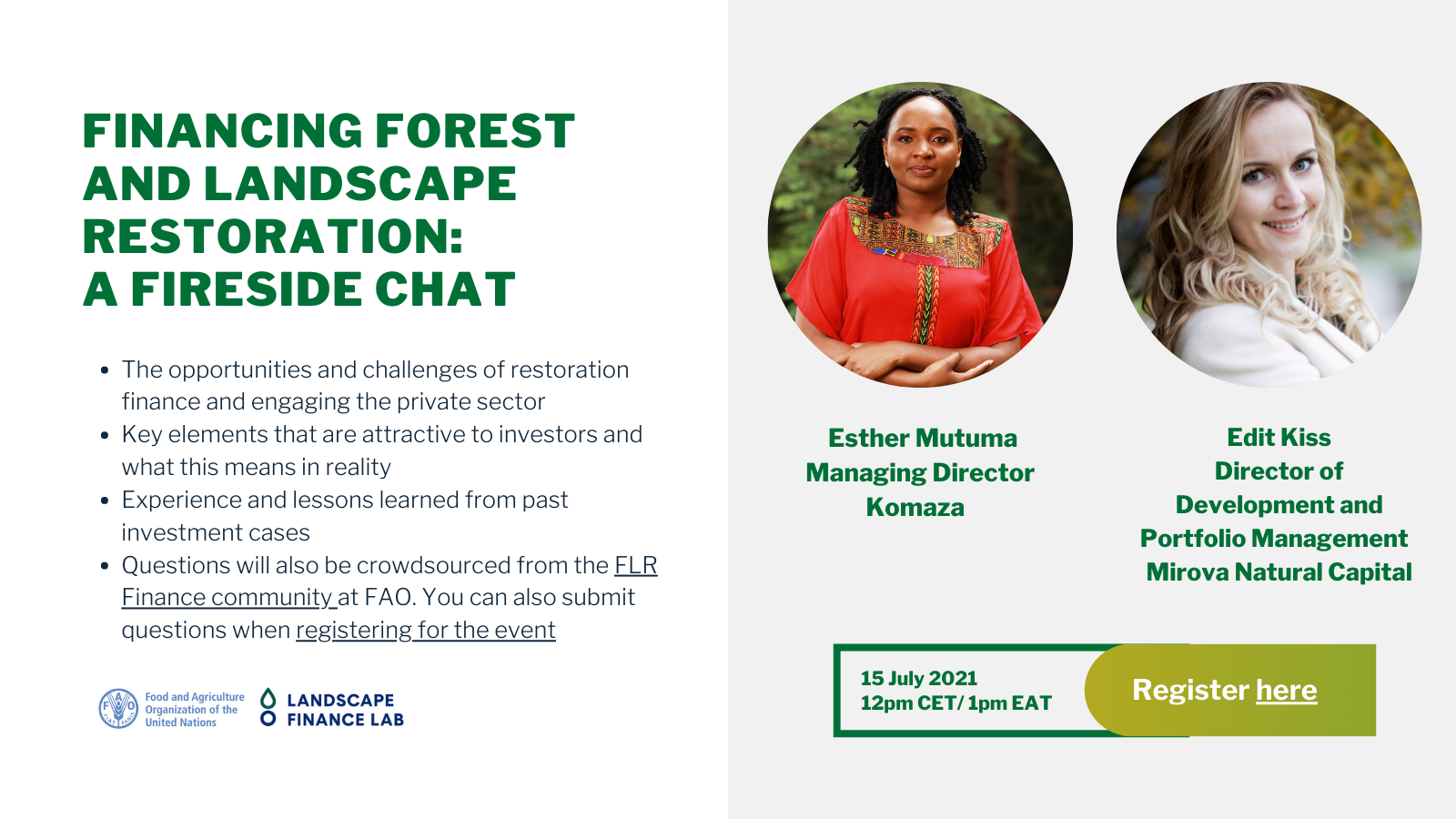 FAO and the Landscape Finance Lab are organizing an online knowledge-sharing forum focusing on the Investing in Forest and Landscape Restoration on 15 July 2021 at 12:00 CEST. This session will use a conversation format with two experts discussing the state of finance for forest and landscape restoration, including opportunities and challenges. Register here!

Speakers will discuss:
The opportunities and challenges of restoration finance and engaging the private sector;
Key elements that are attractive to investors and what this means in reality;
Experience and lessons learned from past investment cases;
About the speakers
Edit Kiss, Mirova Natural Capital
Edit Kiss is Investment and Development Director at Mirova. Since its launch in 2013, Edit manages the EUR100m Althelia Climate Fund, Mirova's first pioneering climate and nature conservation fund. In addition, she is responsible for overseeing the carbon portfolio monetisation strategy through Ecosphere+, ACF's marketing subsidiary as well leading on Mirova Natural Capital Platform's new development activities, donor and strategic client partnerships. She is also co-chairing IETA's Natural Climate Solutions working group.
Edit has over 15 years of experience in climate finance, carbon markets and conservation finance impact investing having worked in various financial institutions, carbon funds and renewable energy companies in London, Paris, Lugano, Rotterdam and Budapest.
Esther Mutuma, Komaza

Esther Mutuma is an avid social entrepreneur that believes in using enterprise to improve livelihoods. Her speciality is in sustainably managing social impact investments in the international development arena. Esther holds a Masters Degree in Community Development & Social Enterprise from the University of Cambridge. Esther joined Komaza in 2018 to drive the company's expansion strategy and launch value addition operations in Central Kenya. She previously served as CEO of Asante Capital EPZ and senior manager at the Standard Chartered Bank PLC.
This post was edited on Jun 25, 2021 by Deesha Chandra