WWF Landscape Sourcing Paper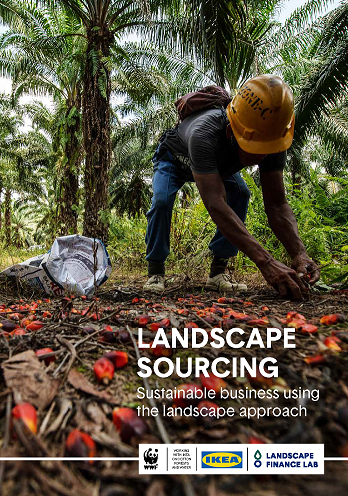 The Lab is pleased to the launch the report Landscape Sourcing, Sustainable Business Usin...dscape Approach. This paper makes a case for how the business sector can support, and benefit from, landscape approaches as a supplement to promoting sustainability within supply chains more broadly.  The report includes case studies of private sector engagement in sustainable landscape management. It concludes with a series of suggested priority next steps to help companies, governments and NGOs develop tools and interventions that they can apply internally in support of a landscape approach.
Key messages  Landscape sourcing is a methodology for product sourcing that contributes positively to the goals of a sustainable landscape through product certification which identifies commodities  that are produced and grown using sustainable landscape management.  
Target audiences 
1. Buyers purchasing natural resources and agricultural products, such as international commodity traders and manufacturers;
2. Producers, intermediaries and service providers seeking to build and strengthen their sustainable business practices;
3. Retailers who stock brands made from these traded products;
4. Financiers and investors active
A launch webinar was hosted on 22 October 2020
Co-authors Nigel Dudley and Marianne Smallwood shared brief introduction on how adopting a landscape approach is an attractive entry point into the circular economy and can both help address environmental concerns while still maintaining company profitability. Willem Ferweda also presented a case study from the Commonland portfolio. 
This post was edited on Apr 22, 2021 by Deesha Chandra