A great summary shared by GLF's Landscape News. A good read if you're quite new to the topic.
It provides a brief overview of the green finance landscape, including its many definitions, key concepts, processes and main actors:
What is sustainable finance?
Why is sustainable finance important?
Who are the key providers of sustainable finance?
How does sustainable finance work?
How can sustainable finance support restoration?
What does all this financial jargon mean
Read the full article here 
https://news.globallandscapesforum.org/40996/40996-what-is-sustainable-finance/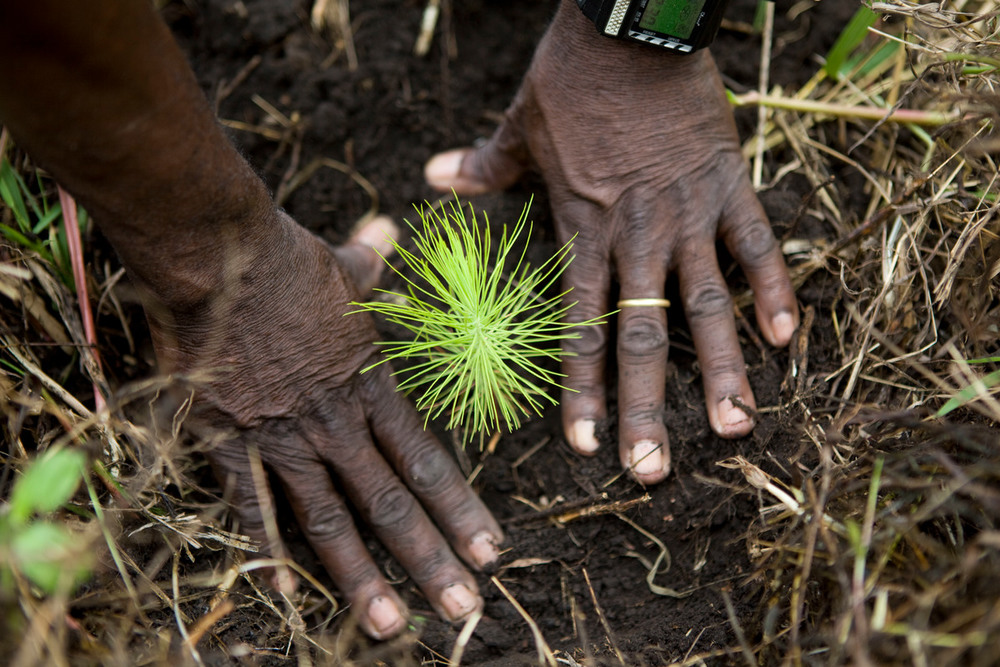 A new report shares the key lessons learned for the successful implementation of large-scale Forest and Landscape Restoration projects to meet global biodiversity targets by 2030.
'Forests for the Future – Restoration Success at Landscape Scale: What will it Take and What
Have we Learned?' comes as the United Nations kicks off the Decade on Ecosystem Restoration
which aims to meet the "Bonn Challenge" - a global target to bring 350 million hectares of
degraded and deforested land into restoration by 2030. Since the Challenge was set in 2011, 74
governments, private associations and companies have pledged more than 210 million hectares.
The report, published by the Prince Bernhard Chair for International Nature Conservation,
embedded within Utrecht University in the Netherlands and supported by WWF, showcases
insights from researchers and practitioners at the coalface of forest and ecosystem restoration
around the world on the greatest opportunities, as well as the most fundamental challenges, that
need to be addressed in the coming years.
In short:
The UN Decade on Ecosystem Restoration starts in June, aiming to restore 350 million hectares of degraded and deforested land by 2030
A new report, which is the culmination of work under the most recent Prince Bernhard Chair at Utrecht University, Professor Jaboury Ghazoul (2015-2020), showcases insights from researchers and practitioners at the coalface of forest and ecosystem restoration around the world.
They highlight some of the greatest opportunities and the greatest challenges that need to be addressed in the coming years if paper commitments are to be put into practice.
Building bridges between social and ecological goals helps to lay the foundations for restoration projects where both people and nature can thrive.
Good governance and legislation drive good outcomes and can make or break projects.
Implementing forest landscape restoration will require capacity-building among communities, land managers and governmental organizations.
Ambitious financing models will be crucial for restoration at scale.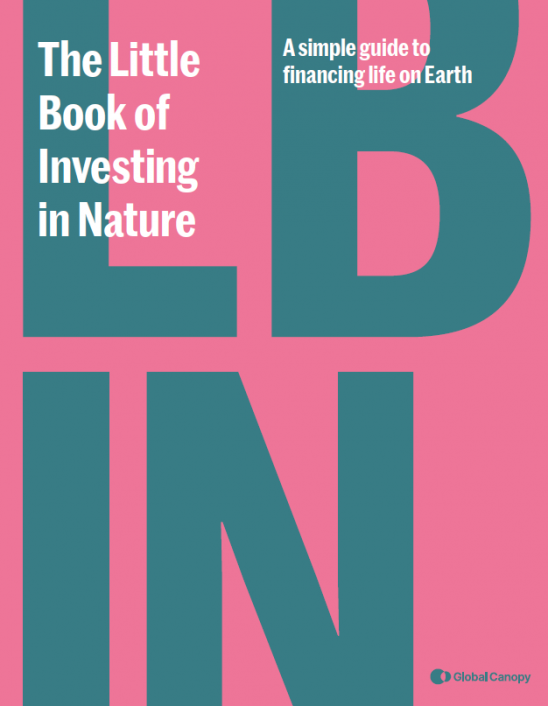 "The Little Book of Investing in Nature" (LBIN) provides an essential guide to the latest innovations in biodiversity finance, including global, estimates of the future costs of protecting nature and potential sources of finance, drawing on case studies and examples of novel investment approaches from around the world.
The LBIN was published by Global Canopy and supported by AFD, Cornell Atkinson Center for Sustainability, Credit Suisse, IDH the sustainable trade initiative, Mirova, UNDP, UNDP Biofin, WWF, and the German Federal Ministry for the Environment, Nature Conservation and Nuclear Safety.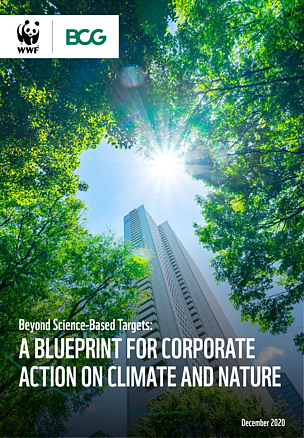 To help companies take the steps needed to truly address the climate crisis and help stop nature loss, WWF and Boston Consulting Group have produced what we are calling 'Beyond Science-Based Targets: A Blueprint for Corporate Action on Climate and Nature'. This corporate climate mitigation blueprint aims to help companies develop a holistic approach that prioritizes Paris-aligned reductions and unlocks future opportunities for innovation. 
You can catch the launch webinar on this here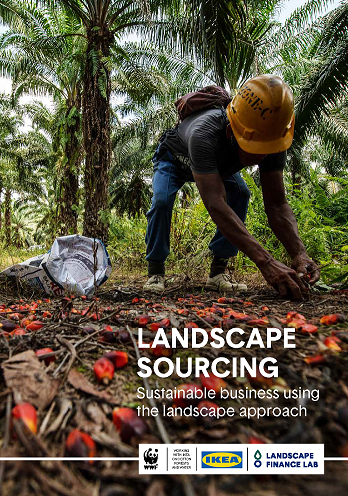 The Lab is pleased to the launch the report Landscape Sourcing, Sustainable Business Using the Landscape Approach. This paper makes a case for how the business sector can support, and benefit from, landscape approaches as a supplement to promoting sustainability within supply chains more broadly.  The report includes case studies of private sector engagement in sustainable landscape management. It concludes with a series of suggested priority next steps to help companies, governments and NGOs develop tools and interventions that they can apply internally in support of a landscape approach.
Key messages  Landscape sourcing is a methodology for product sourcing that contributes positively to the goals of a sustainable landscape through product certification which identifies commodities  that are produced and grown using sustainable landscape management.  
Target audiences 
1. Buyers purchasing natural resources and agricultural products, such as international commodity traders and manufacturers;
2. Producers, intermediaries and service providers seeking to build and strengthen their sustainable business practices;
3. Retailers who stock brands made from these traded products;
4. Financiers and investors active
A launch webinar was hosted on 22 October 2020
Co-authors Nigel Dudley and Marianne Smallwood shared brief introduction on how adopting a landscape approach is an attractive entry point into the circular economy and can both help address environmental concerns while still maintaining company profitability. Willem Ferweda also presented a case study from the Commonland portfolio.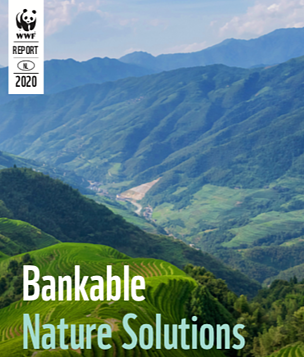 Building conservation and nature-based solutions into projects represents a massive opportunity. We need to work with companies, financial institutions and local stakeholders to develop Bankable Nature Solutions (BNS). This way, we can deliver impacts that reduce pressure on ecosystems, drive resilience and sustainability for both people and nature, while generating positive financial returns for communities and investors.

As part of an increasing effort to work under the umbrella of BNS to set up bankable projects across a wide array of landscapes, the WWF Bankable Nature Solutions division has recently launched the publication - Bankable Nature Solutions: Blueprints from across the globe to adapt to and mitigate climate change and help our living planet to thrive .
It serves as an introduction to Bankable Nature Solutions and presents 13 case studies that offer different solutions that generate a financial return and have a positive impact on nature and climate. The case studies cover water & sanitation, forestry, climate-smart agriculture, environmental protection and renewable energy in Asia, Africa, Europe and Latin America.
It aspires to show global landscape practitioners, investors and investees that Bankable Nature Solutions can be a promising solution, helping to upscale projects and to achieve more impact.

Achieving sustainable development through integrated landscape management
The Little Sustainable Landscapes Book aims to clarify and disseminate sustainable landscape management methods, and to catalyse their implementation across private and public sectors worldwide. The publication is also available in French, Spanish and Bahasa Indonesia by downloading it from the following site 
 http://globalcanopy.org/publications/little-sustainable-landscapes-book.
The book summarises current developments in landscape management, makes recommendations on policy, and explains the importance of landscape initiatives in achieving global goals related to sustainable development. It has been produced in collaboration with world leading experts in agriculture and natural resources, including WWF, Ecoagriculture Partners, The Nature Conservancy,
IDH The Sustainable Trade Initiative, and The Global Canopy Programme.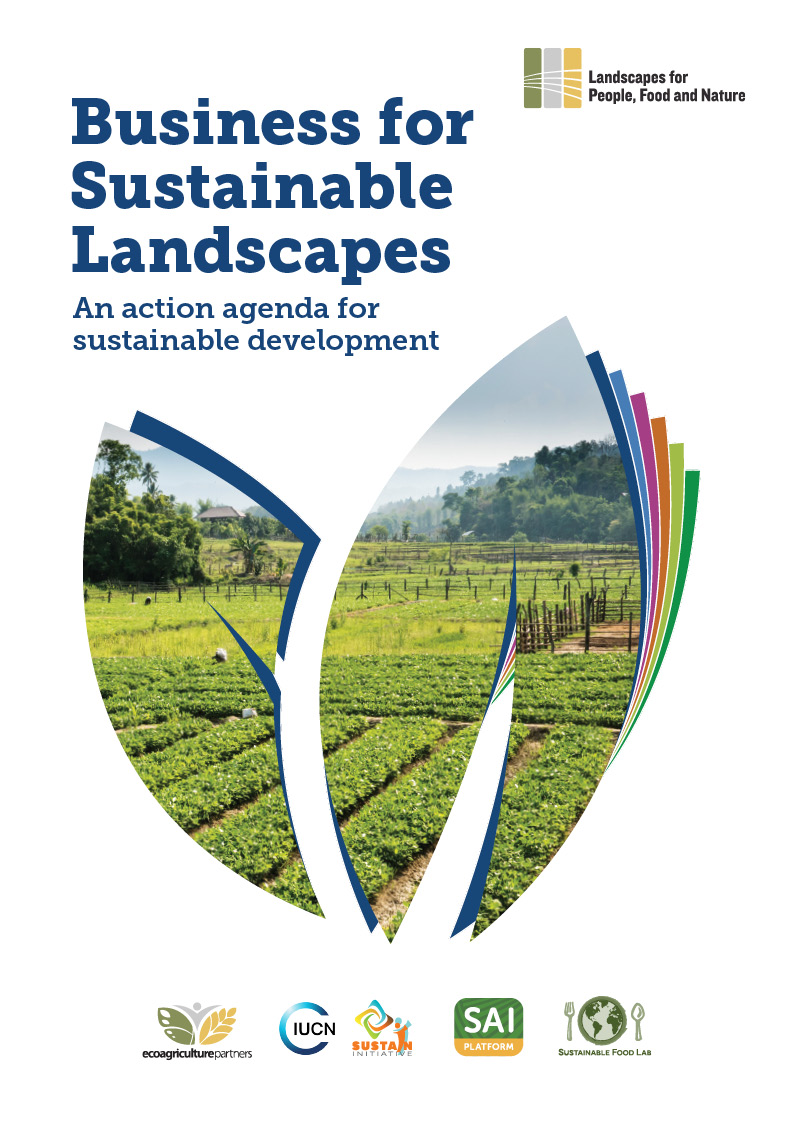 Unlocking investment in sustainable landscapes is critical for inclusive green growth, according to new report
The report, Business for Sustainable Landscapes: An action agenda for sustainable development, underscores the numerous benefits that business can realise by investing in landscapes – from reducing their environmental and social risks to protecting their assets or sourcing area by supporting vital ecosystems, such as forests, rivers and freshwater.
Businesses increasingly recognise that working in landscape partnerships can help them address critical issues that go beyond their immediate supply chains.  Yet, today, only a quarter of the 428 large, multi-stakeholder landscape partnerships surveyed include business.
The report, however, confirms that innovative financial instruments designed to support landscape investments are rapidly emerging, which can help fast-track business engagement in landscape partnerships.  These include new blended finance schemes, impact investment funds, investment screens and standards, and investment strategies in sustainable supply chain programmes, among others.
The report, produced by EcoAgriculture Partners, International Union for Conservation of Nature (IUCN), SAI Platform and Sustainable Food Lab under the auspices of the Landscapes for People, Food and Nature Initiative, outlines an action agenda with concrete steps that business, as well as finance institutions, governments and landscape programme leaders, can take to strengthen these partnerships and advance a socio-economic transformation based on sustainable production and economic growth.
Visit the website:
www.peoplefoodandnature.org/challenge/business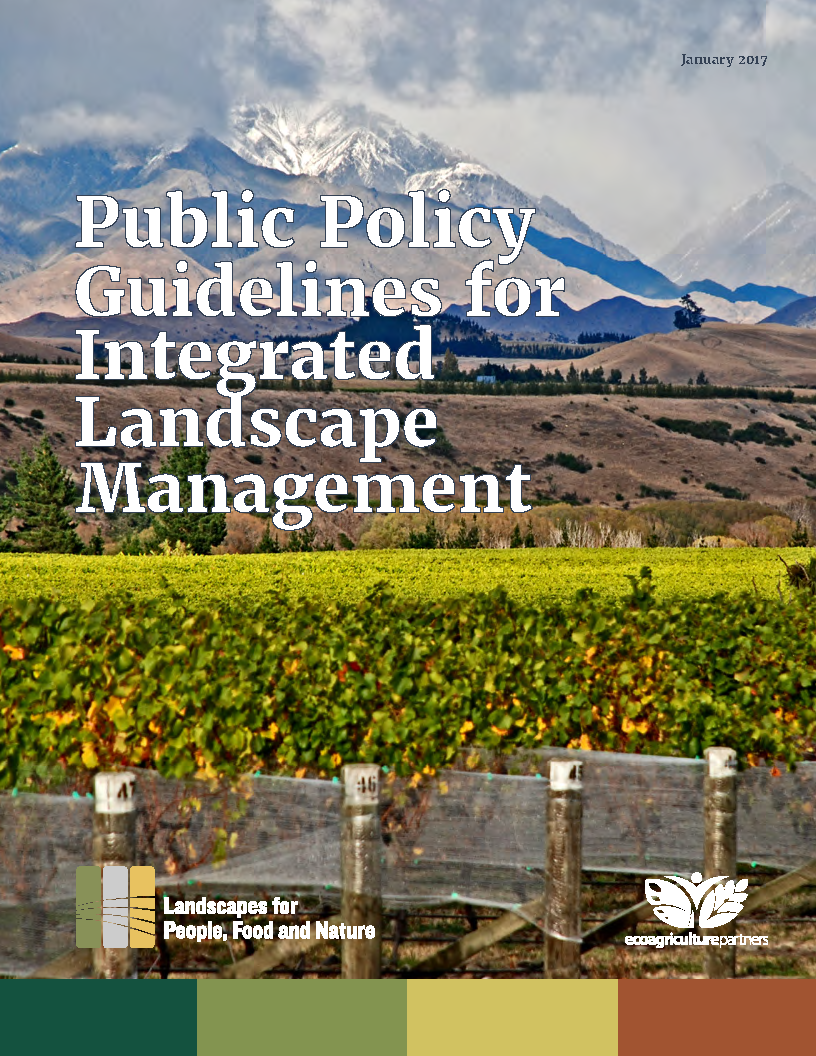 National and sub-national policies that create the enabling conditions for integrated landscape management still need to be put in place in most areas of the world. Thankfully, policymakers have a large set of tools at their disposal, many of which are very low or no-cost. Further, there are simple steps that can be taken right away by individual agencies or localities to put ILM-friendly policy implementation on the horizon. 
This excellent report comes from EcoAgriculture Partners and the Landscapes for People, Food and Nature Initiative.
Further details available here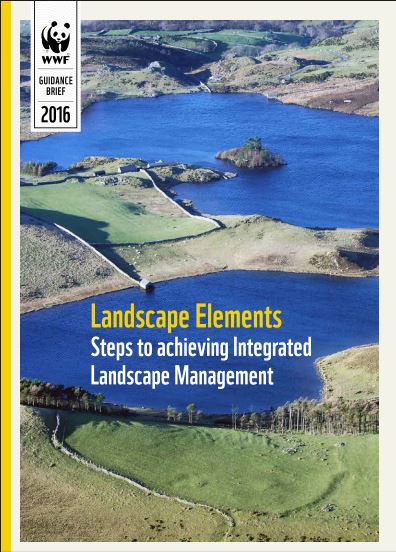 In 2015, WWF and partners (Global Canopy Programme, EcoAgriculture Partners, IDH The Sustainable Trade Initiative and The Nature Conservancy) published The Little Sustainable Landscapes Book, which laid out the case for organizations across a range of sectors to focus on integrated landscape management. The Little Book authors identified five essential elements needed to achieve sustainable landscapes under varied conditions in different places. It also introduces three important "catalysts" – good governance, market access and sustainable finance - that enable integrated landscape management.
WWF's Landscapes Working Group have now taken this work a step further with indicators for measuring progress under each Element and identifying some tools available to help put ideas into action. "Tools" is used here to include methodologies, processes, software programmes or guidelines that have or deserve common use in conservation or sustainable development. This paper summarizes the five elements and three catalysts as well as these tools and indicators. It is principally written as a primer for WWF colleagues on how to apply landscape approaches.
Landscape Elements publication attached below