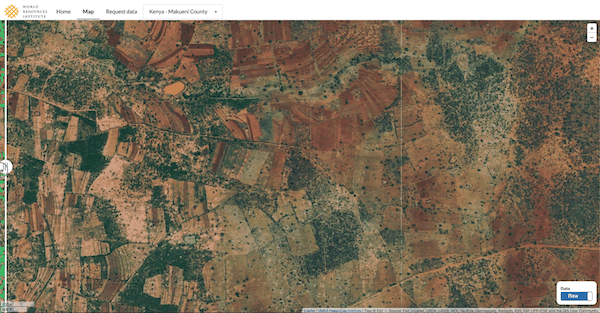 World Resources Institute hosts a webinar on advances in monitoring restoration
Tuesday, October 6, 2020, 9:00-10:15 am. EST, 2pm UK, 3pm CET 
Join WRI for a presentation detailing the latest advances on tracking tree growth and monitoring forest and landscape restoration.
Thanks to Global Forest Watch, monitoring deforestation with satellites has never been easier. But seeing where trees are growing - and measuring the water, soil, and yield benefits that they bring - is challenging. Now, after years of research, WRI and its partners in governments, companies, and communities have paired the latest advances in AI and remote sensing with local expertise and preferences to make tracking progress toward government and company commitments easier and more accurate than ever.
This webinar is designed for governments, companies, project developers, and community leaders who want to learn what tools they can use to track the progress of their work. Monitoring experts from WRI's Global Forest Watch and Restoration teams will highlight the key tools and techniques that practitioners, especially members of regional alliances AFR100 and Initiative 20x20, can use to start monitoring. A 20-minute Q&A period will close the event.

Speakers:
- Lina Pohl Representative in Mexico, FAO and Former Minister of Environment, El Salvador
- Crystal Davis, Director, Global Forest Watch, WRI
- Katie Reytar, Senior Research Associate, Global Restoration Initiative, WRI
- Dow Martin, Manager, Global Restoration Initiative, WRI
- Rene Zamora-Cristales, Senior Associate, Global Restoration Initiative, WRI
- Bernadette Arakwiye, Associate, Global Restoration Initiative, WRI
- John Brandt, Data Science Associate, Global Restoration Initiative, WRI
- Fred Stolle, Deputy Director, Forests Program, WRI
- Additional Speakers (TBD)

For background, check out this article: https://www.wri.org/blog/2020/07/trillion-trees-tracking-challenges

By registering for this webinar, you are consenting to receive updates from WRI's Restoration team.

Sharing this fantastic interactive map from World Resources Institure: Atlas of Forest Landscape Restoration Opportunities
The world has vast amounts of deforested and degraded forest landscapes that deliver limited benefits to both humans and nature. These areas of historical and recent loss provide opportunities for future gain. The maps in this atlas represent a first-ever global approximation of the extent and location of the opportunities for forest landscape restoration – opportunities to reduce poverty, improve food security, mitigate climate change, and protect the environment. The atlas includes maps on current forest coverage, potential forest coverage, forest condition, and human pressure on forest landscapes. The map of Bonn Challenge pledges describes the countries, regional organizations, and other entities that have made pledges toward the Bonn Challenge goal of restoring 150 million hectares of lost forests and degraded forest lands worldwide by 2020.
At least two billion hectares of the world's deforested and degraded forest lands contain opportunities for restoration. The atlas provides a global overview of these opportunities, indicating where a more detailed analysis at the national or local scale is called for. Explore the maps to learn more about where restoration can become a reality...Have a look for yourself here, it's a great resource

WWF-SIGHT is an online mapping tool, fully integrated with the WWF-network spatial data platform GLOBIL, which enables the integration of global environmental, biodiversity and development data sets in one place. It allows anybody in WWF from a field officer to policy staff to produce  a range of products and analyses – from a simple map, showing potential environmental (e.g. PAs; KBAs, intact forest landscapes) and development overlaps (e.g. roads, mining and oil and gas concessions) right up to using SIGHT analysis as the evidence base for policy advocacy with companies, investors or government agencies.
WWF-SIGHT is not only a tool, it is a new approach for early engagement. This is done via easily accessible spatial intelligence that enables WWF staff, for example, to link investment to development, such as mining, through our SIGHT ownership analysis, which aims to trace concession ownership to parent companies and investors.
WWF-SIGHT enables WWF to engage early on planned infrastructure or industrial developments. Early engagement can be more constructive and has more chances of positive influence for the environment before major investments are made and the development path is set.
Your can read the WWF- SIGHT factsheet for more information and most importantly check out our website wwf-sight.org  and register and log onto WWF-SIGHT.
You can find online tutorials once logged into WWF-SIGHT tool, and below is a schedule of webexes to get you going. Any questions, just contact us on wwf-sight@wwf.panda.org.
WWF-SIGHT team
Susanne Schmitt, WWF-UK;
Paolo Tibaldeschi, WWF-Norway;
Pablo Izquierdo, WWF-Norway;
David Patterson, WWF-UK

The IUCN Red List of Ecosystems is a global standard for how we assess the conservation status of ecosystems, applicable at local, national, regional and global levels. The Red List of Ecosystems evaluates whether ecosystems have reached the final stage of degradation (a state of Collapse), whether they are threatened at Critically Endangered, Endangered or Vulnerable levels, or if they are not currently facing significant risk of collapse (Least Concern). It is based on a set of rules, or criteria, for performing evidence-based, scientific assessments of the risk of ecosystem collapse, as measured by reductions in geographical distribution or degradation of the key processes and components of ecosystems.
The Red List of Ecosystems will be of great value to a number of different sectors, including:
Conservation: to help prioritize investments in ecosystem management and restoration, reform resource use practices, and reward good and improved ecosystem management.
Natural resource management: to illustrate ecosystem risks under different land use/development scenarios, and offer insights into ecosystems that provide services such as clean water, soil productivity and the availability of natural products.
Macro-economic planning: to highlight the economic costs of reduced ecosystem services and potential economic benefits of improved ecosystem management.
Private sector: to assess potential environmental and social benefits and costs of alternative designs of future development projects, as well as monitor and report on environmental impacts.

InVEST is a suite of free, open-source software models used to map and value the goods and services from nature that sustain and fulfill human life. 
InVEST enables decision makers to assess quantified tradeoffs associated with alternative management choices and to identify areas where investment in natural capital can enhance human development and conservation.  The toolset currently includes eighteen distinct ecosystem service models designed for terrestrial, freshwater, marine, and coastal ecosystems, as well as a number of "helper tools" to assist with locating and processing input data and with understanding and visualizing outputs.
InVEST models are spatially-explicit, using maps as information sources and producing maps as outputs. InVEST returns results in either biophysical terms (e.g., tons of carbon sequestered) or economic terms (e.g., net present value of that sequestered carbon).
-----------------------------------------------------
Link http://www.naturalcapitalproject.org/invest/
User guide http://data.naturalcapitalproject.org/nightly-build/invest-users-guide/html/
-----------------------------------------------------
Global Forest Watch (GFW) is an interactive online forest monitoring and alert system designed to empower people everywhere with the information they need to better manage and conserve forest landscapes. Global Forest Watch uses cutting edge technology and science to provide the timeliest and most precise information about the status of forest landscapes worldwide, including near-real-time alerts showing suspected locations of recent tree cover loss. GFW is free and simple to use, enabling anyone to create custom maps, analyze forest trends, subscribe to alerts, or download data for their local area or the entire world. Users can also contribute to GFW by sharing data and stories from the ground via GFW's crowdsourcing tools, blogs, and discussion groups. Special "apps" provide detailed information for companies that wish to reduce the risk of deforestation in their supply chains, users who want to monitor fires across Southeast Asia, and more. GFW serves a variety of users including governments, the private sector, NGOs, journalists, universities, and the general public.
The GFW partnership is convened by the World Resources Institute.
Species+, developed by UNEP-WCMC and the CITES Secretariat, is a website designed to assist Parties with implementing CITES, CMS and other multilateral environmental agreements (MEAs). Species+ provides a centralised portal for accessing key information on species of global concern.
In particular, Species+ contains information on all species that are listed in the Appendices of CITES and CMS, as well as other CMS Family listings and species included in the Annexes to the EU Wildlife Trade Regulations.
Welcome to GLOBIL: The Global Observation and Biodiversity Information Portal, a central location for geo-spatial data supporting monitoring and visualization of WWF's work in priority places around the world, data sharing and collaboration, communications and more. Explore the maps in the gallery, or use the search bar top right to look for data, maps and apps by WWF and the greater ArcGIS Online community. 

The Global Wetlands Map is an initiative to collect and share information on tropical wetlands in a visual format. Users can access data and contribute their own, using standard geographic information systems software such as ArcGIS.

Explore the interactive web-based map, login to contribute and verify data, or download the datasets to conduct your own analysis.

The Global Wetlands Map is produced by the Sustainable Wetlands Adaptation and Mitigation Program (SWAMP), a collaborative effort between the Center for International Forestry Research (CIFOR) and the United States Forest Service, supported by the United States Agency for International Development (USAID) and the CGIAR Research Program on Forests, Trees and Agroforestry (FTA).

Tool: Interactive Online Map of Key Biodiversity Areas
Key Biodiversity Areas (KBAs) are sites contributing significantly to the global persistence of biodiversity in terrestrial, inland water and marine environments. A global standard to identify such sites has now been adopted (see attached), and a "World Database of Key Biodiversity Areas" is under development (here), which will include an interactive online map of KBAs with links to detailed documentation for each site. KBA shapefiles will be available on request for non-commercial use, and provided via IBAT at a fee for commercial purposes.
18,000 KBAs have been identified to date, and many more will be identified in the coming years, as KBA identification is one of the top priorities of the KBA Partnership, a group of 11 organisations including WWF, and the Global Environment Facility (GEF.)
KBA data and information are envisaged to have several roles, such as;
Informing the identification of priority sites for conservation: e.g. completing ecologically-representative protected area networks, candidate Ramsar sites.
Supporting private sector decision making: e.g. risk management, informing Environmental Impact Assessments, etc. It should be noted that KBAs are not intended to be 'no-go' areas, although businesses will be encouraged to take special measures to reduce environmental impacts on KBAs. The KBA Partners are currently developing "Guiding Principles and Recommendations for Responsible Business Operations in and around KBAs".
Guiding investment: enabling donors to ensure that funds go to the most important places for the global persistence of biodiversity, through the GEF and other funding sources.
Providing additional recognition for sites that currently lack recognition from governments and others, e.g. indigenous peoples and community conserved areas; corridors of unprotected land providing crucial genetic exchange between protected areas, etc.
Supporting stabilisation of land tenure: in some cases, identification of KBAs has provided indigenous peoples and community groups with additional arguments to help secure their collective governance over territories and natural resources.
The KBA effort is still under development, and new KBA tools such as the "Guiding Principles and Recommendations for Responsible Business Operations in and around KBAs" will be launched for global consultation shortly. Please don't hesitate to contact me for further information, or to get involved.